I have known Jeffrey Sultanof for twenty-five years. I have watched him grow – from a talented kid to the consummate professional he is now.
I find him to be a fine arranger (writing from his head, oftentimes, directly to the individual parts; he's a copyist too). His conducting is sure and sensitive, and he demonstrates a rhythmic sense that is absolutely wonderful.
He takes his composing seriously, and has the ability to see into the heart of music.
Mr. Sultanof has developed a rare insight, and puts his finger on just what is right or wrong with what he's examining (hearing, reading, whatever) and thereby has acquired great critical acumen.
As a musical historian, he is truly to be reckoned with, a walking encyclopedia that publishing companies recognize and value.
He brings an energy and dedication to everything he addresses, his enthusiasm never waning….
Most of all he's honest, and uncomplicated – a man of loyalty and compassion and an asset to any project that involves him.
Jerry Graff – 11-21-96
When it comes to teaching, Jeffrey Sultanof prepares you for the real world. I had the honor of being one of his music business students, and was always impressed by the knowledge, advice, and stories he had to share. He helped me expand my level of thinking, and gave me that much more confidence for my career path and life in general. The exercises, lessons, and discussions never leave me and play a part of my every day life now.
Elizabeth Luthringer – Student at the Institute of Audio Research
For those of us who care about American music, Jeffrey Sultanof is a national treasure.
Tom Myron – Composer
I want to thank you for all that you have taught me these past three to four years. I will always remember you as a teacher who cared and inspired me.
Kathy Hallock – Student at Five Towns College
"Pianists seeking variations on some of American Popular Music's favorite themes will want to investigate Warner Bros. Adventures in Piano Literature: The Piano Concepts Series, which consists of advanced piano solos….In my traversal of the series, a clear front runner has emerged: The Best of Dietz and Schwartz with its 12 selections cast in imaginative yet thoroughly idiomatic arrangements by Jeff Sultanof….the arrangements are not merely slight alterations of the standard ones….the left-hand parts are consistently lively, and the whole program seems infused with the spirit of the composers themselves. In short, this volume is a triumph, a prime example of high artistry inspiring more of same.
Stuart Isacoff – Sheet Music Magazine (November/December, 1990)
"I am getting a kick out of looking at the scores."
Ed Jablonski, biographer of George and Ira Gershwin, responding to the 4 Gershwin Facsimile Editions – December 9, 1988.
"This is a solid job of music writing that is fun to play. I hope we get to play more of your music."
Jim Berman, trombonist and contractor with the Palm Beach Pops, commenting on the "Tony Bennett Medley" written for that orchestra.
"You are an excellent conductor. Where have you been hiding??"
Violinist at recording date – 1981.
"I brought Jeff in to guest with the orchestra and I was struck immediately by his leadership skills as he gave the young musicians a) precise direction, b) musician to musician encouragement, c) exciting new repertoire drawn from virtually each period of jazz history and most of all, in that very first session he got yet another sound out of a band I had trained in many styles. I was particularly struck by the way Jeff accomplished the latter through concise, cogent direction by gesture and minimal explanation. All of this brought me very quickly to the decision to make Jeff our inaugural Principal Guest Conductor….I was struck most of all by the minimal available time our guests had with our young musicians…Jeff did not waste a minute of this valuable time as all his performances showed….His keen eye for making anything related to music notation very readable was recognized by Warner Bros. Publishing and Nelson Riddle when he published his arranging book. Robert Farnon, the legend of orchestral writing in this idiom chose Jeff to edit the notation on his scores. I am presently working very closely with Rosemary Riddle Acerra, Nelson's daughter and trustee of Nelson Riddle estate and have enjoyed the benefits of being able  to consult with Jeff regarding this music at various points."
David O'Rourke – Composer/Arranger/Guitarist/director of the Jazz Standard Youth Orchestra – 10/25/2005
Experiencing Big Band Jazz by Jeff Sultanof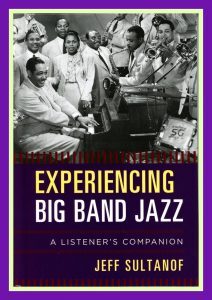 Richard M. Sudhalter told Jeff Sultanof that he should write books. Five pages into Sultanof's multi-faceted examination of big band jazz, I felt the same way.
Experiencing Big Band Jazz is a brand-new and admirable book by a composer, arranger, historian, archivist of all kinds of American music, vernacular and formally composed. I've never met Jeff, but I have had several years to admire his expertise: I've read his postings to an online jazz research group with pleasure. Sultanof isn't interested in self-absorbed preening or proving ideological points for ideology's sake; he's interested in tangible evidence and following its implications. And when he doesn't know, he says so, which is honest and rare. This diligence and rigor is at the heart of the book.
Incidentally, a low bow to whomever conceived the cover—a loose Ellington assemblage that, unlike the expected choice, fellows in dinner jackets or tuxedos behind floor music stands, did not say nostalgia and thus distance prospective readers. And the old-timers in the imagined bookstore (people of my ilk and generation) warm to pictures of Ray Nance, Sonny Greer, Rex Stewart.
Now, if this book had been proposed in the Sixties, no publisher would have taken it—no reflection on the author—because big band jazz was a charmingly ubiquitous part of everyone's culture and needed little explication. Fifty years ago, I could see in person Ellington, Basie, Goodman, Herman, Calloway, Barnet, James, Thad Jones-Mel Lewis, Benny Carter's Swing Masters, Hampton, Jacquet, Rich, Nat Pierce-Frank Capp, Lombardo, Lester Lanin, Peter Duchin, Dorsey and Miller ghost bands, and three dozen others. Every television variety program had a big band, from Doc Severinsen to Mort Lindsey to Ray Bloch and Sammy Spear. A Sinatra or Peggy Lee concert . . . you're beginning to sense the connection. FM radio played modern big bands; college radio stations allowed scholars who were and are friends to have "Swing Years" programs.
Parallel to this late flowering in music, there were books on the phenomenon. Affectionate dictionaries of big bands by Albert McCarthy and George Simon, "Remember When" volumes of nostalgic reminiscences by listeners and musicians alike, with the subtext "This is the music that helped your parents and grandparents get born, and wasn't it wonderful?"and analytical books by Chilton, Walter C. Allen, Schuller, and others.
Perhaps we didn't need Sultanof's book then. We surely do now.
If you don't believe me, ask anyone under forty who Glenn Miller was, or Bennie Moten. I have a sour fantasy of standing on a street in Manhattan with a sign saying, "WHO WAS BENNIE MOTEN? ANSWER CORRECTLY AND WIN A PRIZE." How many people would look up from their iPhones? (Incidentally, HBO turned down my pilot for an alternate-universe series where Berigan and Blanton live on.) Go to a Jazz Studies program and ask the students sitting in plastic chairs whether they prefer the Henderson band pre-Louis, post-Louis, or in Chicago 1936? Or "Name me three big-band drummers who aren't Buddy Rich. Three alto saxophonists playing before Charlie Parker."
In the void that exists when a large piece of communal culture has been made disposable, Sultanof is not only a historian but a rescuer. And he doesn't gush but this is not a dry academic book: his writing is not only clear and factual but quietly affectionate. Somehow knowing that he probably did not lose his virginity to the strains of IN THE MOOD makes his work even more meaningful.
Experiencing Big Band Jazz is presented for an audience that is unaware of the traditions, and that is in the main correct, because so few know when the four-person rhythm section became three; why the big band jazz scene changed in the Forties, and so on. But it's not a book in primer type, and it's not sentimental: we don't learn about Louis and his trout sandwich, or the deaths of David Goodman, Sonny Berman, or Dave Tough. There are no maps of famous ballrooms and dance halls, no stories of Buddy Rich ranting, no stories of life on the band bus. Sultanof's focus is plainly on the music. And he's done a heroic job of making a huge musical landscape visibleBut the book is so plain-looking (I don't mean the nice cover) that it might take readers time to stop underestimating it.
Here's a very brief overview. The center of the book—more than a hundred and fifty pages—is a chronological survey of selected recordings from "Memphis Blues" (1919, Handy) to The Presidential Suite: Eight Variations on Freedom (2014, Ted Nash). Each entry offers a cogent thumbnail sketch of the bandleader/orchestra/performance—with some quirky facts inserted, like crushed red pepper. And there is no hidden ideological leaning: the US gets the main portion, but the Europeans come in nicely; 4/4 is the meter of choice but not always.
Here's a sample of names from the middle of the book (pages 61-72)—admittedly, my turf: Glenn Miller – Bill Finegan; Jay McShann – Charlie Parker; Harlan Leonard – Tadd Dameron; Cab Calloway – Dizzy Gillespie; Benny Carter; Miller – Eddie Durham – "Chummy" MacGregor; Artie Shaw – Sam Donahue; Charlie Barnet – Billy Moore; Billy Eckstine – Budd Johnson; Stan Kenton – Buddy Baker. Those who know will recognize that not only is Sultanof speaking of the leader, the composer, the soloists, but also the arranger . . . and a particular version's connections (echoes and liftings as well) to other recordings and performances. Devotees might say, "Why did he pick that version, that song? Why do the Canapes have only two performances?" but that's what connoisseurs do, muttering in the background.
Back to the experience of reading this section. First, one is not compelled to follow in chronological order. I would hope that even a novice would know a few names and start with the recognized heroes.
With a pleasing awareness of the century we live in, Sultanof has picked performances currently available on YouTube—rather than saying "Decca 374," which for all but a handful, is inaccessible and thus frustrating data. I can't overemphasize the sly brilliance of this scheme. First, no young student has to buy one of those things the old folks dote on, compact discs. (He's promised to update links as they become defunct on YouTube.) It is possible to imagine a whole group of reader-listeners accessing this book on their phones—one of the few instances I would be happy to see someone with earbuds, rocking and smiling.
Also, I am sure he understands the wandering ways of YouTube and its endless supply of rabbit-holes. Remember the last time you went on YouTube to find some artist or performance and found the right-hand column of thumbnails beckoning? Looking for one particular Charlie Parker performance? Pack a lunch, because you'll find it hard to get away in ten or even ninety minutes. The cry, "Honey, I'll do that thing you wanted me to do right after I watch just one more thing!" is so common, not limited to big band jazz-obsessions.
He's also created a Facebook group for the book, where he promises to "supply additional tracks to supplement the book, answer questions, and promote discussion about the materials covered. There is a teacher guide for the book as well, and support information for interested parties who would use the book as a text for a class." That is using current media with great intelligence.
On a personal note: I come from a different century, which doesn't upset me, because there were many more opportunities for friendly community than most have now. When I was in my late teens, I had a small circle of friends who loved the same music, and we would go to each other's houses (sometimes the visit would turn into dinner cooked by the friend's mother) and listen closely to the newest or oldest record that was giving intense pleasure, commenting chorally and individually to what we heard. "Can you play that again? Listen to what Page does in that phrase. Listen to how Ben charges in on his solo. Listen to what Hackett does at the end of the chorus," and so on. We were already worshipers, and we helped each other know and notice more.
Having Sultanof's concise, friendly summaries is like going through the potentially cold museum of only-slightly-understood art with a very wise but never obtrusive guide at your arm, murmuring about what one might see if one looked closely. The listening experience is instantly made richer.
It's a valuable book for many different audiences; it's very well done, and it fills a void that many may not have recognized existed. Thank you, Jeff Sultanof!
I want to hear Jazz Studies students humming Benny Carter reed-section variations or becoming Don Redman's trombone section on the street as soon as the book is bought and adopted widely . . . and the weather improves.
___________________________________________________________________________________________________________________________________________________________________________________________________
Sultanof discusses a full century of big-band jazz, using the reporter's concept of who, what, when, where, and how to help readers understand the genre's history. Preceding the nine chronological chapters are helpful time lines and definitions of key musical elements. Each chapter begins with an overview of historical and socioeconomic circumstances that influenced the music and the public's relationship with the genre in the period discussed. Of note in this regard are the effects of the Depression, WW II, the British invasion, and disco. Each chapter highlights songs considered classic to the era. The book is valuable both for the history of the genre it offers and for the fact that each chapter can stand on its own. Readers can read chronologically or pick chapters that focus on their passion or chosen area of study. At the book's conclusion, additional reading and listening suggestions are listed by artist; an index of song titles follows the general index. Whether readers are jazz connoisseurs or jazz dabblers, this is a valuable tool for delving into the unique genre of big band jazz.
Summing Up: Recommended. Lower-division undergraduates through faculty and professionals; general readers. ― CHOICE
________________________________________________________________________________________________________________________________________________________________________________________________
Big band jazz gets a concise, balanced analysis from Sultanof, a composer-arranger and professor at the Institute of Audio Research in New York City. Sultanof surveys the rise and fall of the music form from its American origins in 1918 through the early 1950s, when the public flocked to dance in packed clubs, to the present day. He examines the bands' popularity through the lavish venues in which they played, and the arrival of radio, improved sound recordings, and booking agencies that brought talent to wider audiences. Sultan writes enthusiastically about the heralded ensembles and arrangements of Count Basie, Duke Ellington, Fletcher Henderson, Benny Goodman, and Glenn Miller ('Fred Astaire didn't make too many records in his incredible career, but his meeting with the Goodman band and the sextet is pure magic,' Sultanof writes about the song 'Just Like Taking Candy from a Baby'). He is especially astute in documenting the well-received bands of World War II, the yearlong musicians' strike, the singers, the use of foreign rhythms, and the shift to smaller groups. His guide takes readers up through more recent arrangers Gil Evans, Gary McFarland, and Don Sebesky. Sultanof has written a handy, detailed reference for jazz music listeners. ― Publishers Weekly
_________________________________________________________________________________________________________________________________________________________________________________________________
Sultanof has had a long and distinguished career as composer, arranger, and jazz historian, working with musicians of the caliber of Sonny Rollins and Gerry Mulligan and publishing the arrangements for Miles Davis's legendary 1949–50 Birth of the Cool sessions. Though written for novices, this book will be of value to all lovers of jazz bands, introducing numerous ensembles that may have eluded them. Several of these groups only marginally qualify as jazz, but that's for the good, as styles spread outside of straightforward jazz, and jazz musicians were recruited to play them. Sultanof's choice of songs is tilted toward what's playing on YouTube or Spotify. Thus, readers can listen to cuts while reading about them in the book…. Above all, his knowledge of the band scene from the 1910s to the present is unparalleled. VERDICT This title should appeal…to everyone interested in jazz or big bands. ― Library Journal
_________________________________________________________________________________________________________________________________________________________________________________________________
It is no easy task linking Paul Whiteman and Duke Ellington to Darcy James Argue and Tom Kubis in less than 200 pages. Sultanof does the job of introducing the neophyte to the panoply of styles and creators over the wide arc of the past century. ― ARSC Journal
Experiencing Big Band Jazz fills an important gap in the literature of this rich, wonderful, and unsinkable musical idiom with a thoughtful tour through nearly a century of influential recordings. And here's the big payoff: With the musical examples readily available online, you can follow along without having to amass a huge record collection! — Ray Hoffman, CEO Radio, WCBS Newsradio 880 New York
Jeff Sultanof's mastery of the history, techniques, and challenges of big band composing and arranging makes this book invaluable to musicians, students, and listeners. He's a storyteller. This is a fascinating read. — Doug Ramsey, proprietor of the Rifftides blog, author of Take Five: The Public and Private Lives of Paul Desmond
When Jeff Sultanof says that a song is a masterpiece, I trust him. In this age of exaggeration, Sultanof's critical acumen, growing out of years of what John Dewey called 'learning by doing,' has given music lovers a benchmark guide to an unduly neglected genre. — Judith Tick, author of Becoming Ella Fitzgerald, Northeastern University
Experiencing Big Band Jazz is the place to start for listeners who want to explore this exciting chapter in American music history. There's no better guide to this subject than Jeff Sultanof, and he has delivered a book that will delight serious jazz fans and broaden the horizons of newcomers to the music. — Ted Gioia, author of The History of Jazz and The Jazz Standards –This text refers to the hardcover edition.
Endorsements
"Jeffrey Sultanof is one of the few arrangers who can write swing music for a symphony orchestra that musicians love to play" – James Maher, in a letter to Terry Monahan
"The Indiana Jones of American Music" – Steven Cohen, composer/arranger/music preparation.
"First-rate music journalism." – Bill Barnes
"My students have benefitted enormously from your books." – "I'm inspired and astounded every time I hold these scores in my hands." – Fred Sturm, Jazz Composition Program, Eastman School of Music, and Jazz Chair, Lawrence University.
"You are my hero." – Walter van de Leur, biographer and editor of the music of Billy Strayhorn.
It is wonderful that you are doing this, and entirely on your own – Gene Lees, referring to The Robert Farnon Edition.
Jeff is by far one of the most knowledgeable people I know. His attention to detail is only one of many qualities that set him apart from the crowd – Scott Whitfield, internationally acclaimed trombonist/vocalist/arranger
Jeff Sultanof is a consummate musician. He is an historian, an arranger/composer, an editor, and a scholar. And he is brilliant in each role. Jeff has had a hand in finding, editing and publishing historic jazz scores from the masters of the past. His dedication to his craft makes him one of the most respected people in his field. Jazz performers and researchers are in his debt. – Terry Vosbein – Composer/Arranger, Professor at Washington and Lee University
I have known Jeff for most of my life- and as a musician/actor, I count him as one of the finest musician/scholars that I have ever worked with. – Victoria Casella – Actress, Musical Director, Pianist, Teacher, Coach
I have known Jeffrey Sultanof for several decades now. At first I was just impressed with his knowledge about jazz recordings. Then I came to realize how much he knows about the music itself. He's a true historian of jazz. Somewhere along the way I watched him work as a conductor and was once again impressed — he leads with precision, attention to detail and, for lack of a better word, soul. And if that's not enough, he's a damn fine arranger too. If I find out he can tap dance I will get very very jealous.- Steven Rosenhaus – Composer/Arranger/Conductor, Professor of Composition at NYU
It was a pleasure working alongside a kind and considerate colleague. His work contributions made a significant impact in the Library and in the school. Jeff Sultanof is passionate about work, life and especially music.- Wendy Roque – Librarian: Institute of Audio Research, Five Towns College